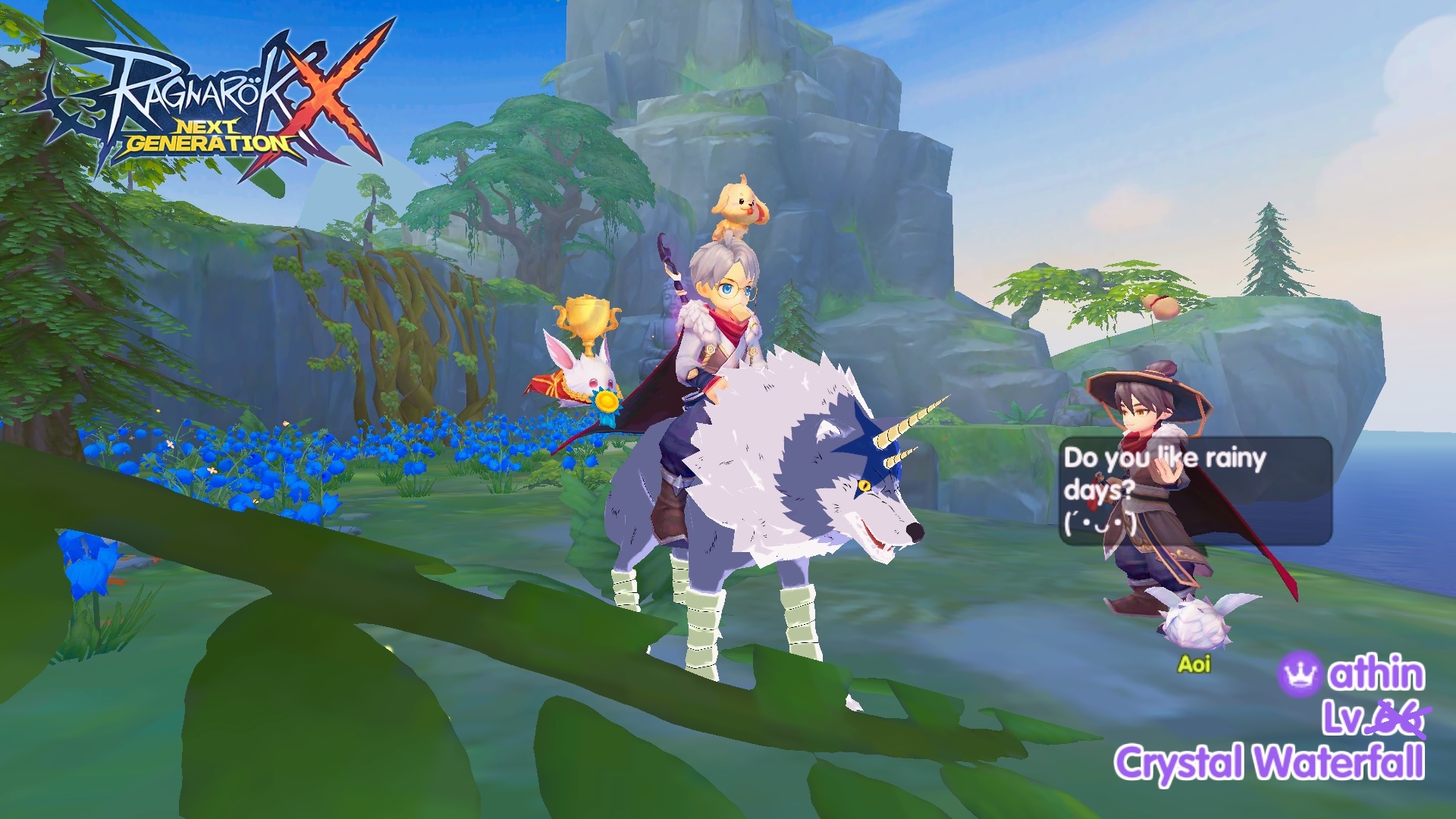 Athin's Short and Simple Guide for Ragnarok X (ROX)
Last Update: 31 July 2021, 18:00 UTC+8
This guide is a (non-detailed) summary from Stellarist's Youtube in addition to self-experience.

And oh! Checkout my Complete Guide of #ROXBuild for Critical Lord Knight here! :D
Useful Links
---
Selling Items
If it's fishing (bait) item, don't sell.
If it's crafting item, consider keeping them.
Sell with the following order (whenever possible):
Exchange Center
Other players' merchant shops
CoC
Sundrise
For more successful selling at Exchange Center:
If it's in urgent demand, maximize the unit price.
If not, minimize the unit price and also tick to follow the lowest price.
Shortcut to access CoC shop without going to the city:
Via backpack, click any CoC item, click green button to sell.
Then change the tab if you want to buy.
Quests or Missions
Always prioritize the Main Story Quests, so the mobs' levels are not too low.
For Daily Board Quests, if you level up, then the unclaimed ones might be refreshed (with more exp!).
Thus, to optimize the exp of Daily Board Quests, use the following order:
Claim all double reward quests.
Claim just enough more quests sufficient to level up.
Do all quests and level up.
Do the rest of the unclaimed quests (might be new, might be old, but more exp).
Moreover, if you almost level up at night, consider to wait until the next morning to get the above perks.
Do CoC quests on Sunday, after completing Daily Board Quests, to maximize the exp income.
Double click the "Quest" tab (on the left side) to see any available side quests.
Side quest rewards are including titles and dye packs.
There are still some secret side quests:
Superhero Quest: Climb down the wall in the East side of Payon East Forest.
RO Life
Fishing:

Do the daily quest of fishing to get 10 fish coins.
The quest doesn't take any stamina, but you must have at least 10 to start.
Spend every 20 fish coins for auto-rod, or save some for the headgear.
Always use non-standard baits, they are cheap and can be found in Alberta shop.
Roughly 70% of the time you will catch the "premium" fish with baits.

Mining:

Pick the ore-vein-level as you need. Lesser is faster and spends less stamina.
Advanced pickaxe is strongly recommended if you want to finish it fast.
You may also synthesize (via backpack) 3 lv X ores to get 1 lv X+1 ore.
If needed, you may also dismantle (via backpack) 1 lv X ore to get 2 lv X-1 ores.

Gardening:

Some people says this one is super-irritating and consider to just buy from Exchange Center.
Gather the special plants (20 exp) instead of farms (1 exp, e.g. pumpkin).
RO's day consists of 4 phases: morning-day-evening-night. Special plants appear in Morning and Evening.
1 phase lasts for 1 hour. Every 20 minutes, the weather may change.
It's strongly recommended to gather in drizzle weather (usually announced).

Smelting:

Some people consider Smelting to be a good way to earn more money and crystals.
Instead of raw ores, smelt first then sell them in Exchange Center.

Cooking and Crafting don't really have any special notes.
Equipments
There are 5 classes of equipments, sorted from the weakest:
White: Standard, from instance.
Blue: From crafting or Gacha machine (preferred way).
Violet: (Only for armors) Valkyrie set, from Valkyrie shop, Endless Tower, and Guild Store.
Gold: From Mini/MVP or (expensive) Gacha machine.
Shadow: From completing 16 of 19 "impossible" quests.
Usually, there are 5 ways to level-up each equipment, as follows.
Some can be transferred (swap) to other equipment via stat-transfer.
Upgrade, simple and can be transferred. May have a chance to fail and decrease level at late-game.
Refine, simple but cannot be transferred if class is different.
Refine has a chance of fail/broken (check Cheatsheet). Need exact equipment to repair the broken one.
Thus, one trick of refine is to transfer the refine stat to a cheap weapon then transfer it back.
Enchant, the stat being leveled-up is randomized (see "Enchantment" below). Can be transferred.
Equipment Upgrade (not just "Upgrade"), to Tier-up the base stat of the equipment.
Find their respective NPC by clicking green button on equipment.
White class equipment upgrade is equal to its higher level version (e.g. lv 25 Tier II = lv 40 Tier I).
For other classes, it is dubbed as "Equipment Crafting".
Embed Card, just embed all useful cards while you can, and sell the rests.
Cost for removing the card is 500-1000 crystals. But can be free if the equipment is dismantled.
Enchantment
Each equipment has 3 slots of enchantment. Starting at lv 0, lv 0, and lv 0.
For 1 enchant, pick 1 slot to be enchanted.
The enchantment from lv 0 may result in lv 1.
The enchantment from lv X may result in lv X-1, lv X, or lv X+1.
You always have a choice to either keep the old enchantment or the new one.
Later on, it gets harder to result a higher level.
Thus preferably, always keep the higher level, rather than the stats you are aiming for.


The stats you will get for each enchantment is purely randomized.
Higher the level, higher the stats e.g. lv1 STR+4, lv2 STR+8, lv3 STR+12.
The stats will always be randomized e.g. from lv1 STR+4 it can be lv2 LUK+8 then can be lv3 INT+12.
Each cities has their own pool of random stats, check Cheatsheet.
Endless Tower
Can try once per day, may take an hour (or more) if your party is strong.
The reward is available on each level, and can be claimed once per level per week.
You cannot regen HP until level 20, focus on avoiding mobs' attacks (e.g. Wizard's Firewall).
Bondyno07 suggests the following strategy (until level 20):

Melee should go slowly first then lure mobs in a circle.
Range should spam attacks at a distance from the center.
Healer should focus on casting the buffs (i.e. Priest's Kyrie Eleison).



In every 5 levels, there will be a boss. After killing it, meditate to fully recover SP (and HP).
In every 5 levels, pick a portal you want for Soul Exchange:

Red (Vali): Upgrade material
Violet (Loki): Enchant material
Orange (Vidar): Refine material
Green (Freyr): Card exchange
Yellow (Odin): Violet (Valkyrie) Equipment



In every 10 levels, pick a free buff according to your job.
In every 20 levels, there will be a checkpoint. Always buy 3x Angeling's Blessings to regen HP.
For each boss, try to avoid their skills. Some of them are insta-kill (check Cheatsheet).
NPC Favors
Check Cheatsheet for the complete guide, these are just the "relevant" ones.
Kafra's Gurl

Prerequisite: 100x Kafra teleport
Recommended Gifts: 4-Leaf Clovers (from CoC)
Perks (at 20%): Get a Kafra Headgear + Can teleport to any place

CoC's Boi

Prerequisite: Complete 10 sets of CoC quests
Recommended Gifts: Ancient Coin (from Prontera Equipment Material shop)
Perks (at 100%): A chance to get double reward coins for CoC quests

Arielle

Prerequisite: Get close to her for 5 minutes
Recommended Gifts: Aloe Vera (from Exchange Center)
Perks (at 100%): Get random buffs for 30 minutes

Schumann

Prerequisite: Finish his tutorial quest at Red Tavern
Recommended Gifts: Blue Gemstone (from Merchants)
Perks (at 100%): Get skateboard mount

All Enchantment NPCs

Prerequisite: 50x Enchant
Recommended Gifts: Depends, check Cheatsheet
Perks (at 100%): Unlock max enchant level + Weekly quests for Enchant bonus
Enchant bonus: Enchantment may be free, or more likely to increase the level
Lucky Lottery (Inactive?)
Disclaimer: This is just based on self-experience thus not guaranteeing anything.
Here is a summary digit-by-digit:
First digit is more likely to be 0.
Second digit is more likely to be 1.
Third digit is pretty random, but might be 2 or 5.
Fourth digit is pretty random, but might be even.
Fifth digit is pretty random, but might be odd.
Sixth digit is just random.
Higher numbers (i.e. 9, 8, and 7) tend to rarely appear.
No-brainer guesses for each day: 011111 or 022222 or 022211.
Ad Hoc Tips
Odin's Blessings is perfectly fine to be used in a very crowded mob. Recommended for Job exp.
If you have some foods, eat all of them before you go AFK.
You can get Glory Trial Card (or Glory Pass) with ONLY around 30,000 crystals (or 60,000) in Exchange Center.
Get 1,500 crystals daily by doing 100 activity points on Carnival:

40 points from 10x Daily Quests
45 points from 3x Instances
10 points from OX Quiz
6 points from 3x Guild Order (can just buy the items)

In fact, you might get 60,000+ crystals in a day alone by pure fishing and/or gardening.
You can get 120 extra staminas daily by winning 2 arm-wrestling minigames.
If you want to restart shadow equipment progress, go to east of Guild Territory map and pray there.
Use Transmog feature to equip a costume but with stats from other costume.
To get 1 MVP/Mini coin, hit at least once and stay alive until it dies. Daily, you can get up to 3 for each type.
---
This guide is written by athin and mainly used as my personal notes.
Feel free to contact me via anything (from my homepage) for any inquiries! :3

Disclaimer: I'm not a professional player, I'm just a guy who loves learning and exploring things.
I'm a F2P player. I don't (and not planning to) spend a single penny in the game, thus I'm less-familiar with VIP stuffs.